Testimonials
Anything we could say about our quality, service, business ethics and standards couldn't possibly mean as much as our satisfied customers themselves sharing there expressions about Villa Franca Homes.
Please review just a few of the many letters we have received over the years. And we hope that you will choose Villa Franca Homes as a partner in designing and building your new home.
---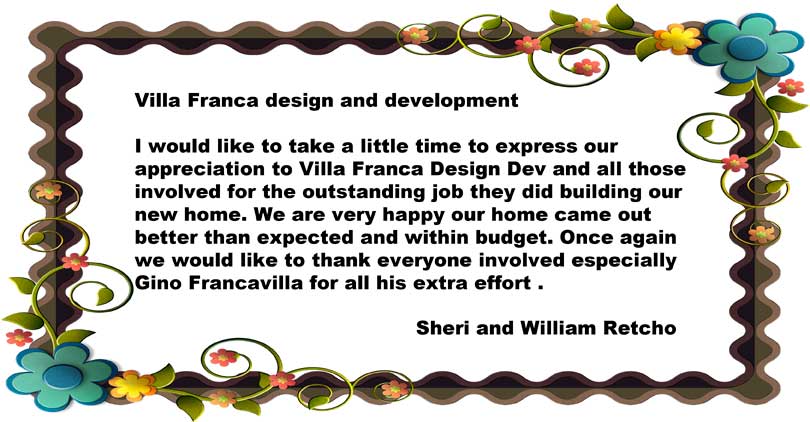 ---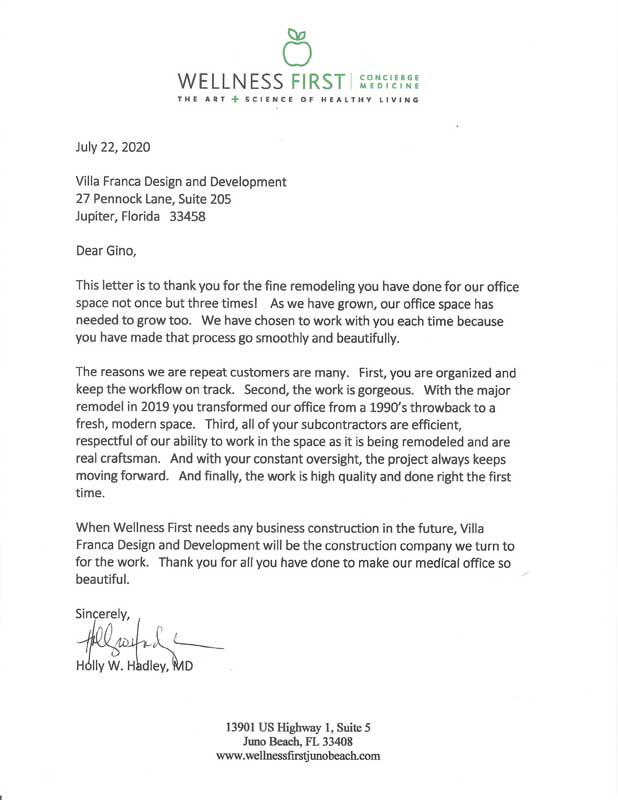 ---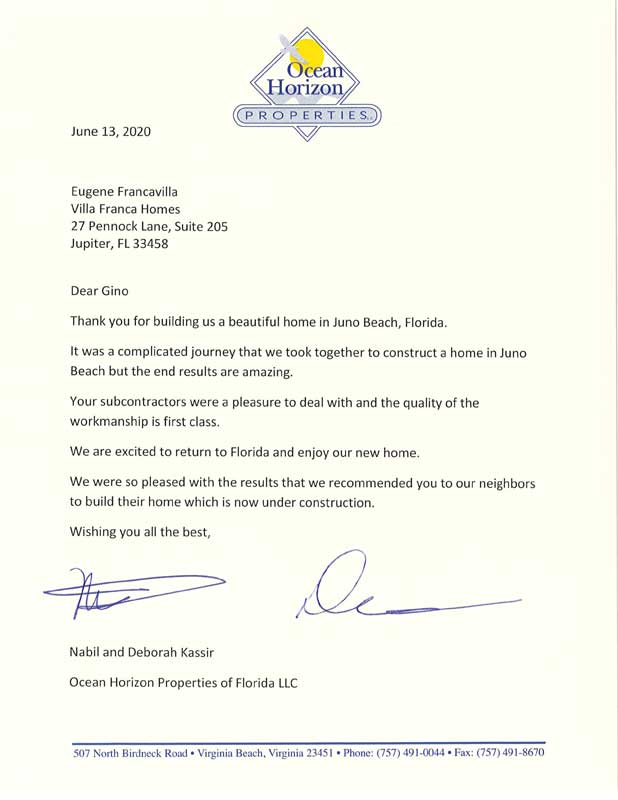 ---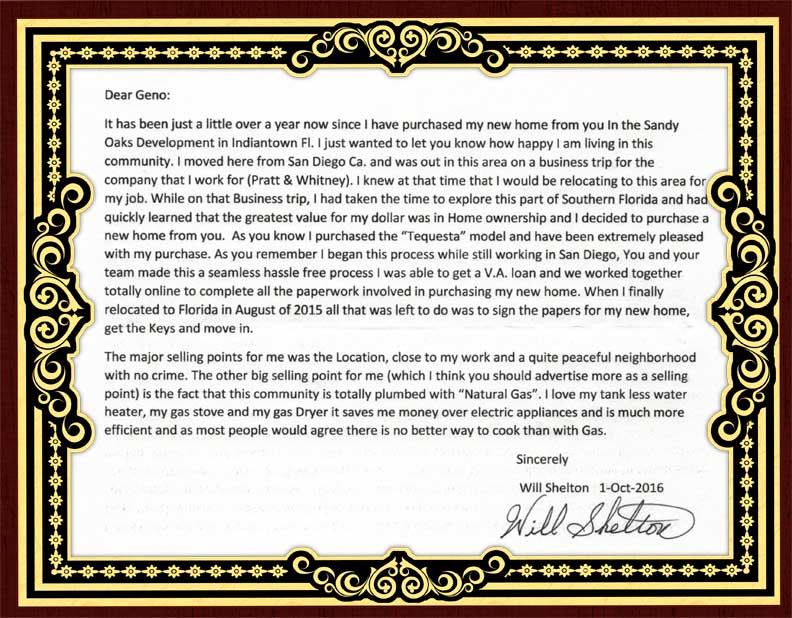 ---
December 2016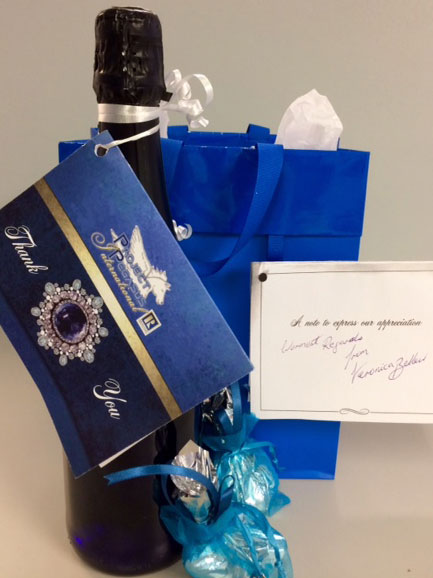 ---
October 2016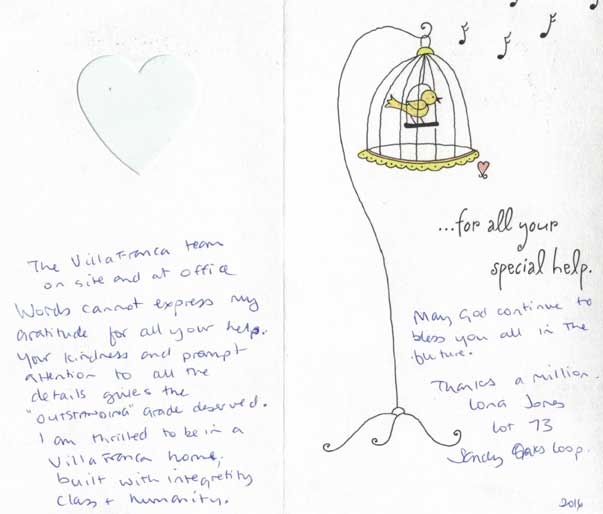 ---
November 1, 2008
Dear Gino,
I wanted to take this opportunity to thank you on the great job you did to get the house ready and on budget for Anne and myself.
Purchasing the house at 80% completion gave my wife and myself the opportunity to pick the finishing touches to our liking.
We were able to pick out flooring, counter tops, walls and ceiling colors and also electrical fixture.
Having the ability made us very comfortable, because we didn't have to replace material, we just selected it. We felt very comfortable working with you and your staff to get us in the house on time.
We love our house and strongly recommend a Villa Franca home to any and everyone.
Thanks once again Steve
---
October 29, 2008
Dear Gino,
You and your team are simply the best when it comes to remodeling commercial property! When I faced the daunting task of dividing my medical office into two separate offices I dreaded the project. I was not sure whether I would be able to conduct business during the construction. Would my office be torn up only to have the remodeling done in fits and starts? You came in and made it all possible. Before starting the project we had time to plan how the remodeling would be done. You were able to accommodate my business hours and work when we weren't open. You also kept the project moving forward by being a presence on the jobe site every day. The remodeling didn't stall out along the way. You finished on time and on budget.
Of Course all of the work was top quality. We have been working in our tow medical offices for over 6 months an have encountered no problems or surprises. Would I want you to do my next new or remodeling project? Absolutely!
Thank you for making what seemed difficult look easy. You are the consummate professional.
Sincerely,
Holly W. Hadley, MD
Owner of Healthy Families and WomenFirst <
Juno Beach, Florida
---
September 2008
Dear Gino,
I wanted to take the opportunity to thank you and your staff for helping Tracy and I on the building our home on Riverside Drive, Tequesta.
When we purchased our property, there was no doubt that you would be our builder. I heard and still hear the horror stories from my friends and business associates, about the experiences they had building there home. Fortunately our relationship is the exception not the rule.
It was a learning experience when you built our first house on Hayne Lane in Jupiter Farms six years ago. At that time you guided and directed us through the construction process. We were very satisfied with the quality of construction and the communication between builder and homeowner.
Tracy and I had such a comfort level with you and your company, that we contracted you once again for the biggest investment of our lives.
The building of an estate home is overwhelming and over bearing. We appreciate the help you gave us with the layout, design positioning and material selection of our home.
Thank you for the time and suggestions you gave Julie, our interior designer/decorator. It was comforting that you were so graciously willing to work the her, which is reflected by the finish product of our home.
Gino, once again thank you for our home. We will truly enjoy our home and hopefully take a little more than 6 years before we consider doing it a third time. But, when and if it happens again, you're our guy.
Thank You,
Bob Camerlinck
---
Dear Gino,
I just wanted to take a moment to thank you for your time in the
completion of my cabana and driveway. It truly showed your character
in being able to complete a project that you had not started. You
lived up to your promise by completing the job on time and within
budget, which was a delightful surprise.
Thank you for the professional manor you and your company showed and
for the comfort level afforded to me in doing business with you,
Robert Grant
Harold Grant for men
---
Dear Gino,
Just a note to let you know how very pleased we are with the home we
purchased from you. Your attention to detail, as well as warranty
service makes it a pleasure for us to recommend your company. Thanks
again.
Best Regards,
Frank and Dodi Spieles
---

TO WHOM IT MAY CONCERN:
Re: Mr. Gino Francavilla
When I first arrived in Fla. I had the privilege of speaking at a
Men's Retreat of about 200 men. After the final session a young man
came up and said that he too had recently come to Fla. from Long
Island and that if I ever needed help with building or construction
needs that he would offer his =services. I was impressed right off
with his sincerity, enthusiasm and gregarious personality. I filed
his offer in the back of my mind.
Approximately a year later I decided to put a 12X18 addition on my
garage to house some exercise machines and provide further storage.
I then called my young friend Gino Francavilla, for assistance and he
agreed to help and be my general contractor. He was indeed always
friendly, on top of the job and very patient with all the paperwork,
inspections and the sub contractors. The work as very well done.
His attitude was optimistic, sympathetic to my needs and professional.
Even when problems arose (as they always do with projects like mine)
he was persistent in pursuit of the solution and encouraging to me.
We are now enjoying out new addition and I heartily recommend Gino for
any building and construction work.
Sincerely,
Dr. Earl V. Comfort
---

December 14, 1995
Dear Gino,
Please consider this letter a recommendation to any of your
prospective customers. We love our new home and like to take this
time to thank you for the wonderful job you did.
It all started when we were searching for new home design ideas and
came across one of your beautiful new homes in The Moorings of
Jupiter. Our broker had recognized your name and gave us a positive
referral right then. We were about to build in the exclusive area of
Jupiter Inlet Colony and were strongly concerned about the quality of
construction as well as the value.
Your custom design amazed is how it was able to maximize the usage of
our lot. The trust you instilled upon us gave us a confidence and
kept us relaxed knowing that we would be up North during the
construction of our winter home. I just want other people to know
that your reputation as a custom home builder is as solid as our
house.
Thank you again for our beautiful home.
Sincerely yours,
Sal Berritto
---

February 21, 2003
I am writing this letter with great appreciation to Eugene
Francavilla, for an extraordinary job done.
Villa Franca has built two houses for me and they have both come up
breathtakingly beautiful. He did such an amazing job with my first
house that I didn't think twice about hiring him to build my second
house. The second house was to be much larger and much more detailed
than the first, but I knew there would be no one better for the job
than Mr. Francavilla.
Please feel free to drive by the house or to stopin to see what a
beautiful job he has done. It is located at 49 Ocean Drive in Jupiter
Island, FL.
Upon seeing the completed house I can only say that I was simply
overwhelmed, literally speechless. I would recommend Villa Franca to
anyone!!!
Sincerely,
Salvatore Berrito
---

Dear Gino,
Dick and I can't express how happy and pleased we are with our new
home. The house surpassed our expectations, design and quality.
Working with you and you sub-contractors was a pleasure. Everything
was done in a timely fashion, actually ahead of schedule.
Again, we greatly appreciate your professionalism in coordinating
every detail, even to the smallest. How fortunate for us to have
Villa Franca build our home. We will recommend you highly to future
home builders.
Thank you,
Richard and Carol Beck
---

I have known Mr.Gino Francavilla, of Franca Villa Design and
Development for over one year. I decided to retire from the medical
field in Long Island, New York and upon looking at various properties,
my wife and I decided to purchase a lot in "The Moorings of Jupiter".
We contracted with another local builder to build our home and
unfortunately, while we were in Europe, we got a call from my son and
were told our builder went bankrupt.
Upon my return to Jupiter, we found our house only 25% complete, being
told it was more than 50% done. We interviewed numerous contractors
to complete our home but Gino was the one whom we trusted.
He has finished our home to specifications, quality standards and
agreement. During construction of our home, we have seen Gino almost
everyday, he was always concerned that we were satisfied with our
home.
Upon completion of our home, we have become friends. We moved in our
home May 29. 1997. Since then, he frequently visits us and asks if
everything is OK.
Fortunately, we have had not one single problem with our home. We
recommend Gino Francavilla for his quality homes but most of all for
his honesty. He is genuinely a good person. We honestly believe he
will continue to have an excellent reputation that he has established
and proven to us.
Sincerely yours,
Dr. Erol Aksoy
---

Dear Gino,
You never cease to amaze me. Even with our history you have impressed
me once again with the completion of Rolling Green. Your attention to
detail is beyond reproach and your quality workmanship is in every
room of this house. Your integrity and honesty made me feel
comfortable during the whole process of building this home.
I definitely would recommend Villa Franca Design and Development to
build a home of this caliber.
Thank you and all the best!

Garnett Williams